Enhance Function and Recovery Before and After Birth for Your Clients
We train professionals to optimize maternal and infant care in the hospital and home with Occupational and Physical Therapy
As a Perinatal Health Specialist, you will have the skills and confidence to enhance recovery and maximize function in the hospital and home around the time of:
Certified Perinatal Health Specialist (PHS)
Initial Certification:
30 Continuing Education Hours
Initial Perinatal Health Specialist Cost
2-Year Perinatal Health Specialist Recertification:
10 Continuing Education Hours
15-hour Enhanced Recovery After Delivery™ Certificate Training fulfills Step 1 criteria for Perinatal Health Specialist (PHS) Certification
Enhanced Recovery After Delivery
Grow an OB Rehab Program in the Hospital and Home after Birth
Click here to inquire about training for your team at your facility
15-Hour CEU Livestream Annual Training
November 10 - 11, 2023
Friday 8:00 AM - 5:00 PM MT | Saturday 8:00 AM - 3:30 PM MT
$
697
Pelvic Health Network members: $345.80
Fulfills Step 1 criteria for the Perinatal Health Specialist certification

15-hour CEU livestream annual training with ERAD™ co-founders: Dr. Rebeca Segraves, PT, DPT, WCS and Dr. Jenna Segraves, PT, DPT, NCS

NEW content will prepare therapists to start a program or grow an existing service for individuals in the hospital and community before and immediately after birth

Participants will be prepared to evaluate and treat individuals and their family in the hospital and home during high-risk pregnancy and within 24 - 48 hours after vaginal delivery, cesarean section, cesarean hysterectomy, perinatal loss, obstetric emergency, obstetric ICU admission, NICU admission, perineal tears, cesarean wound events, symphysis pubis dysfunction, pelvic girdle dysfunction, and more

Pelvic Health Network members receive 50% off of training and pay $348.50
Professionals will be able to:
I love this course and this area of practice for OT/PT. I strongly believe that we will be an integral part of the postpartum process in acute care and the first 6 weeks postpartum once we start implementing this program throughout the US. The value of this program to mothers, children, families and society is unmeasurable. Mothers need to be taught how to thrive, barely surviving is not good enough.
Jessica Hammond, OTR/L
Occupational Therapist
I had the privilege of taking the online course and in person. Both courses were packed with content, and I was able to gain a wealth of knowledge. I personally gained even more information during the in person course because I am a hands on learner. Rebecca and Jenna were able to answer all my questions and provide me deep insight on how to properly work with the obstetric population. I recommend this course to anyone who wants to work with this population!!
Jasmine Dockett, OTR/L
Occupational Therapist
This course was amazing! I look forward to the day that all health care providers are taught this content in school so they can comprehensively treat women during a time when they are the most vulnerable. The thoughtfulness, time and commitment you put into developing this course cannot be understated. The way you all communicate; the use of PowerPoints combined with rich discussion; the group work and demonstrations; the resources you provide; the case studies and personal experiences that have informed and motivated your work...this information will change the face of maternal health care, curb the statistics and improve people's quality of life in ways I can't begin to imagine. To say that we are part of the same profession is humbling. The two of you are literally changing the world one interview; one course; one patient at a time and now magnifying your results as you are selflessly sharing your content and resources with us. From the bottom of my heart, I thank you!
Dr. Katherine Sylvester, PT, DPT
Physical Therapist, Co-Founder of Operation M.I.S.T.
This course makes me believe that role of OT is expandable and that I can be of help at some level to mothers in alleviating not just physical but mental pain, limitations with pre, ante and post partum journey. Wonderful guidance, various treatment tools and overall a new perspective in maternal care was provided by Ms Rebaca Segraves and Ms Jenna Segraves.
Deepal Trivedi, OTR/L
Occupational Therapist
I cannot rave about this course enough! When I first heard Rebeca and Jenna speak at the National Physical Therapy conference (CSM 2023) for two hours, I knew I needed more. I took the ERAD course and it was so informative and empowering. Within 5 months of going to that conference, I signed up for their ERAD course and was able to use the tools from the course to implement a post-op C-section PT program in the hospital I work in. Rebeca and Jenna are just wonderful people and are changing women's health for the better.
Dr. Kristi Ellison, PT, DPT
Physical Therapist
In this course, Rebeca & Jenna present compelling content that is well-researched in addition to labs & demonstrations of hands-on skills that directly translate to patient care, all while promoting engaging conversation amongst the cohort. Thank you for empowering leaders to build and sustain perinatal & postpartum programs, to take action and join together as we work to advance maternal healthcare.
Kailie Prindle, OTR
Occupational Therapist
I am blown away by how amazing and helpful this course was! I have been passionate about the perinatal population but feel like I have been struggling to find my path in how to best serve them. This has given me so many new ideas and tools on how to do that. The instructors are incredibly knowledgeable and share the content in an approachable and empowering way, while also allowing space for the course participants to be interactive, add and contribute from their unique perspectives, and create an environment for true learning and sharing. I would recommend this course to anybody in the perinatal world (and already have!)!
Dr. Jacki Gilpin, PT, DPT
Physical Therapist
This was one of the BEST continuing education courses I have ever taken. Very informative and interesting information. Rebeca did an awesome job at explaining the information in a way that was easy to understand and apply to my previous experiences. Would highly recommend.
Dr. Lisa Mizell, PT, DPT
Physical Therapist
This was a great course. The intimate setting and small class size were perfect. The external speakers were appropriate and knowledgeable. The length of the course was good. The conversations were amazing! Small groups were effective with tasks that seemed relevant. Examples were real life and generalizable to what I do and what I was looking for. Handout and resources were awesome. Highly recommend this course to acute care rehab and all outpatient pelvic floor therapists.
Dr. Alyssa Schock, PT, DPT
Physical Therapist
This course was exactly what I needed! I have had a passion for peri-natal and postpartum care, but had no idea where to start! Rebeca and Jenna were absolutely amazing, providing thorough knowledge, practical interventions, and clinical pearls throughout the two day course! I truly enjoyed every minute of the course and now feel like I have the resources to get started! I cannot wait to see what the future holds for OB PTs! But I am beyond inspired after this course! Thank you!
Dr. Emily Mitchell, PT, DPT
Physical Therapist
I'm leaving this course feeling more informed and more confident to advocate for the roles of PTs and OTs in acute care. I can't wait to get this information into my colleagues and patients hands so they can start receiving the care they so need and deserve.
Amanda Littlejohn, OTR/L
Occupational Therapist
I feel really empowered to start a postpartum therapy program at my hospital and was provided with many amazing tools to do so. The resources provided are invaluable and being able to pick the brains of other therapists interested in doing the same thing and leaders in the field was absolutely worth the time and money spent on the course. Rebeca's passion for this population and these programs is obviously throughout her presentation.
Dr. Betsy Miller, PT, DPT
Physical Therapist
Rebeca and Jenna are "women Warriors" presenting in depth material with applicable interventions that actually make a difference in a woman's life! I am now so much more knowledgeable and ready to go fight for the women I will encounter and treat.
Rhea McCord, PT
Physical Therapist
Thank you so much for this awesome course. As a Pelvic OP PT that hasn't worked Acute in 5 years, I didn't really know what my knowledge gaps were regarding acute mobilization in the antenatal/postnatal period, and this helped me immensely. I feel like the course has made me more comfortable and able to go into an acute space. I feel that I have to tools to help advocate for a PT/OT team at my hospital to start providing maternal support.
Dr. Emma Duran, PT, DPT
Physical Therapist
Thank you for all of the resources you have shared so that some of the ground work for starting a program has been done for me! I don't like role playing but it was very effective in helping to implement the knowledge into practical application. I also appreciate your emphasis on not worrying about whose technique we are using and making sure we hit all the fine points, but focus on meeting the patient's needs in the moment (acute needs vs outpatient needs are so different). Excellent course and I highly recommend it.
Joanne Nelson, PT
Physical Therapist
This excellent review is not given lightly. I am very new to the world of maternal care - I have not treated patients in this population yet or experienced birth myself. I say this because I was concerned that I didn't have the background knowledge I would have needed to get the most out of this course. I was thoroughly impressed not only with the amount of information we reviewed but with the instructors willingness to teach and discuss as we did. They did a wonderful job of facilitating a safe learning environment. I was encouraged and inspired listening to peers who are already working in this field sharing about their experiences and enriching my takeaway from the course. I came into this training with only a general desire to support and care for women during this season of life. I am so pleased to say I have finished the course feeling ready and excited to do exactly that!
Cortlynn Cartonia, OTR/L
Occupational Therapist
5 Steps to become a Certified Perinatal Health Specialist (PHS)
Step 1: Complete the 15-hour Enhanced Recovery After Delivery™ Certificate Training
Friday: 8:00 AM - 5:00 PM MT Saturday: 8:00 AM - 3:30 PM MT
Step 2: Complete the 15-hour Advanced Topics in Acute Perinatal Rehabilitation Certificate Training
Training opens February 2024
Step 3: Meet Licensure Eligibility for the Perinatal Health Specialist Certification
Professionals eligible for this certification:
Occupational Therapists
Physical Therapists
Physiotherapists
Certified Occupational Therapy Assistants
Physical Therapist Assistants
PRE-REGISTER
Certification exam opens March 2024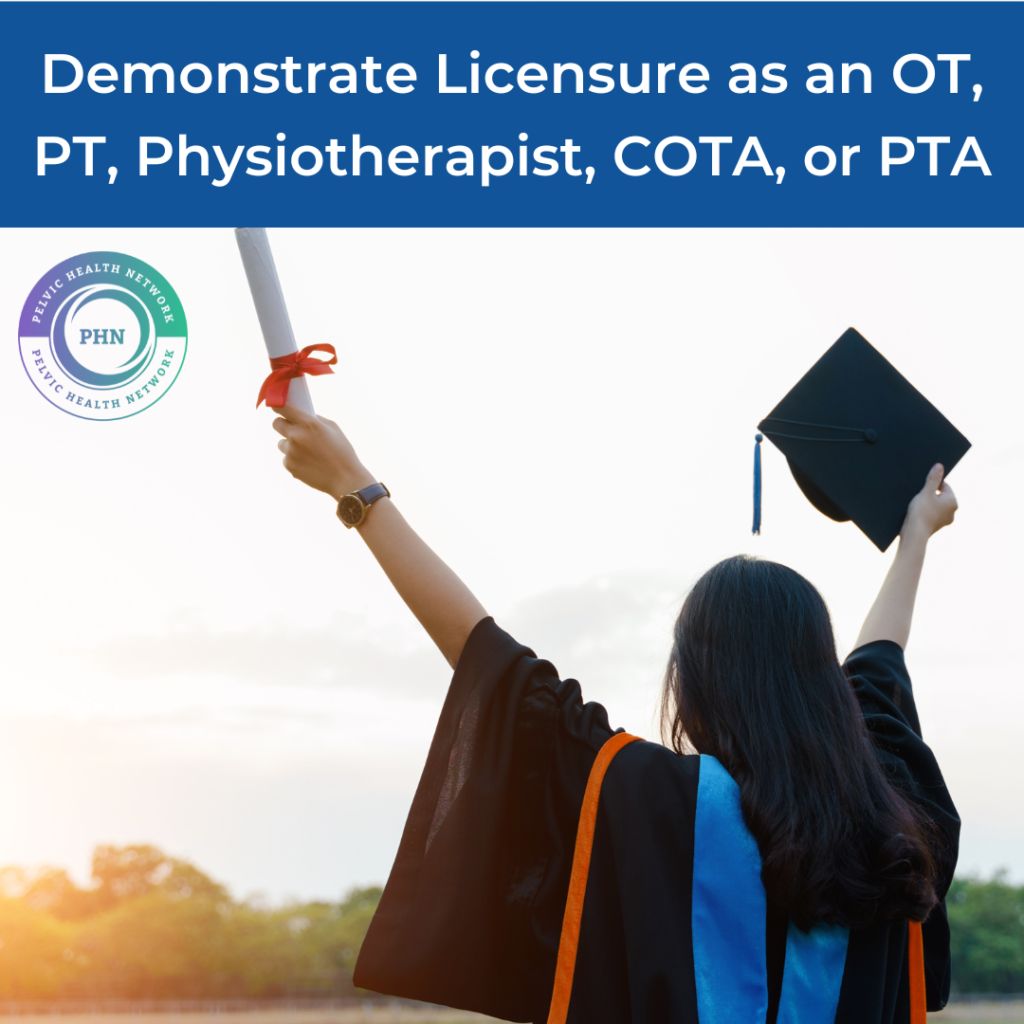 Step 4:
Apply to take the Perinatal Health Specialist Exam
Certification and CEUs awarded to licensed rehabilitation therapists (OTs, PTs, COTAs, PTAs) who complete training requirements and successfully pass examination with a score of 80% or greater.
PRE-REGISTER
Certification exam opens March 2024
Recertification: 2-Year Cycle
Complete 10 continuing education hours of Pelvic Health Network training related to maternal and/or infant health every two years OR one of the approved equivalent training activities.
PRE-REGISTER
Certification exam opens March 2024
The skills to enhance pulmonary and cardiac function in the high-risk pregnancy and postpartum populations
The confidence to create a system that reduces risk factors immediately after cesarean section, hysterectomy, and more
The knowledge to improve perineal and cesarean wound healing and reduce hospital readmissions
The ability to shorten the recovery process and increase joy in clients who typically wait weeks to months for supportive care
The techniques to spot concerns earlier and be the point of contact on a person's care team to connect them with resources throughout their first year of recovery
Dr. Rebeca Segraves, PT, DPT, WCS
Clinical Director | Educator
Dr. Jenna Segraves, PT, DPT, NCS
Co-Founder | Educator
Dr. Katherine Sylvester, PT, DPT
Maternal cardiac and kidney function, hypertensive disorders, and early intervention
Dr. Ann Croghan, PT, DPT, CLC
OT and PT breastfeeding interventions in the hospital and home
Dr. Erin Locati, PT, DPT
administration, reimbursement, and justification of obstetric rehab services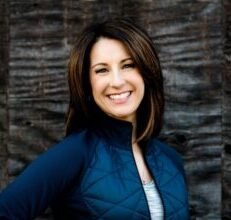 Dr. Amanda Heritage, PT, DPT
early recovery after perineal lacerations including OASIS, obstetric anal sphincter injuries
Use this Training to Create a Program in the Hospital and Home after Birth and Pelvic Surgery
Like you, we believe that preventative care should not wait. 
Do you believe that individuals after birth should be informed on how to enhance their function immediately after delivery without having to wait and figure out things on their own?
Are hospitals in your community offering rehab services DAILY after elective surgery yet not offering therapy ONCE to patients after cesarean section?
Are you a leader in your field, advocating to improve maternal function now to avoid unwanted symptoms later?
You can establish a new standard for care globally by optimizing function after birth and pelvic surgery directly in hospitals, birth centers, and at home where recovery begins.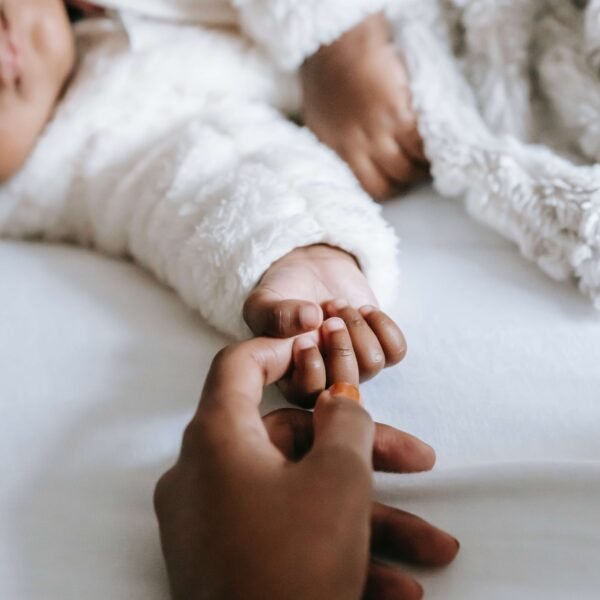 Elevate care and optimize outcomes in your facility with Enhanced Recovery After Delivery™ for your staff. Schedule in-person or virtual training for your facility or academic institution.
Transform Obstetrics Care as a Perinatal Health Specialist (PHS)
PRE-REGISTER:
Exam opens March 2024